Release date: 12 Oct 2020
Download
SHA: 14b61aaa979685972a82625661104441ec5d5ca44985d83fedef5424d75db6dd
Whats's new
Feature: Sorting alphabetically for All Domain and Clients

Feature: Add TLS Version information as a Flow Column

Improve: Better color for Light theme (Preview Body, Raw, and JSON Tree View)
Release date: 06 Oct 2020
Download
SHA: 79372d04da9b85b673e68139115316d72b8a32b74927886a51355b43e1d2284a
Whats's new
Feature: Header Autocomplete for Breakpoint and Compose

Feature: Search and filter JSON Tree View response

Improve: Add Enable Column to all Tool List
Bugs
Fixed: CMD+Delete when editing the Key/Value in Breakpoint cause canceling the breakpoint

Fixed: Missing Item count in Tree View for Array Node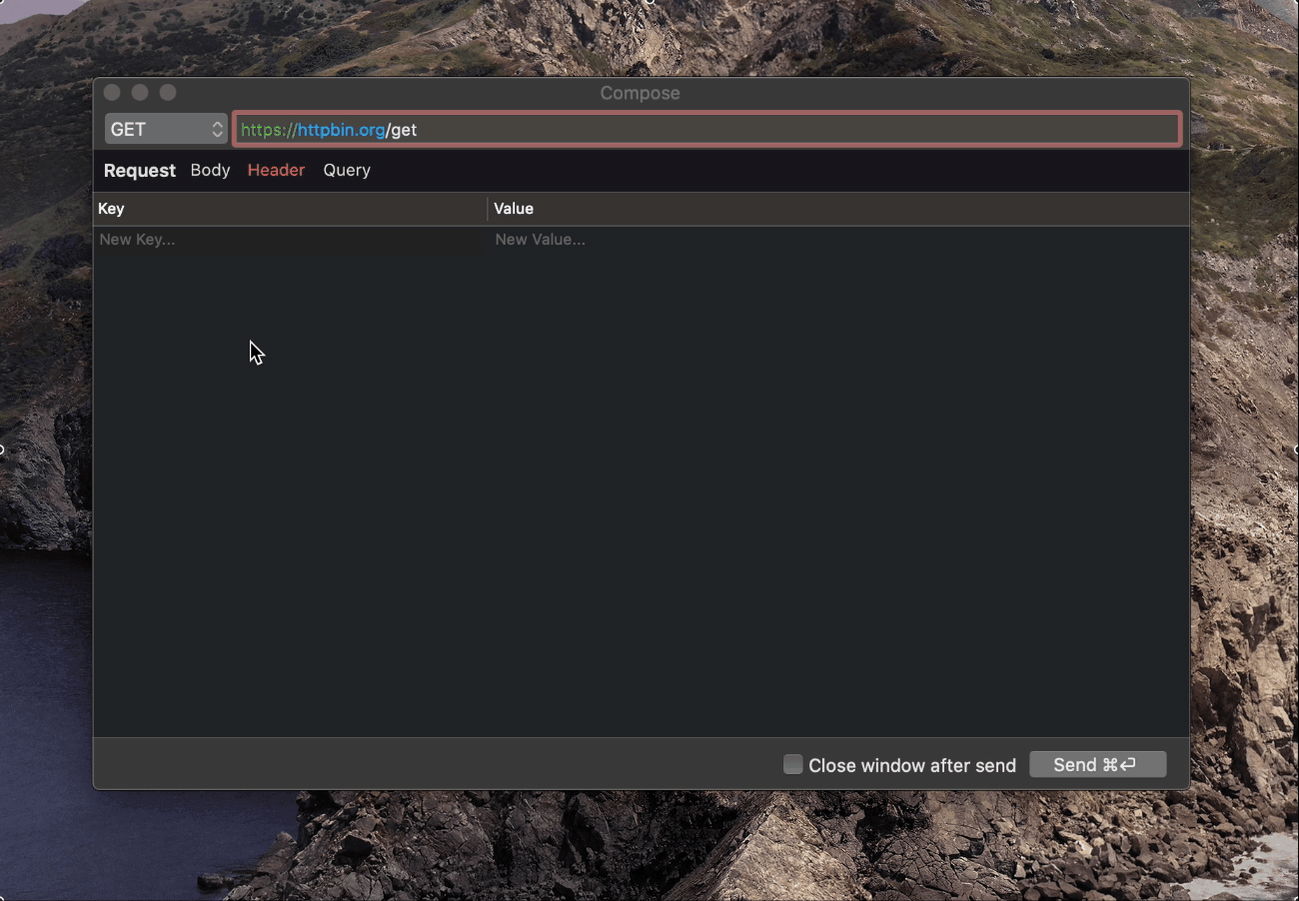 Release date: 29 Sep 2020
Download
SHA: 6ce5c448b32e3ed8a8d59e61c627b1db6994dd8bffdf2281c4ab04cacf20d241
Whats's new
Feature: Map Remote v2 with Preserve Host in Header Fields.

Improve: Always show the Body Tab in the Request and Response Panel regardless of Body Content

Improve: Add + Button to add Custom Previewer Tab

Improve: UI Certificate installation

Improve: CMD+Return to compose a request
Bugs
Fixed: Auto-Complete show in Body (Readonly Mode)

Fixed: Scripting is shorty hang if the Console Log has large text data

Fixed: Too many Skip executing the script because it is on Editing Mode

Fixed: Capturing localhost:9090 ends up in an infinite loop
Release date: 21 Sep 2020
Download
SHA: 6b683ae0d632adb07e5d1e1a25dae3fd8116cd069a60b7840451838604b436be
What's new:
Feature: Text Auto-Complete for Scripting, Map Local and Composing Editor.

Feature: Import Tool Config (XML) from Charles Proxy, includes Map Local, Map Remote, Breakpoint, Allow and Block List

Improve: Improve UIUX on Proxyman 2.6.0

Improve: Improve Install Certificate Design

Improve: Auto enable SSL Proxying on Domains when creating new rules

Improve: Add Help Buttons that link to Proxyman Document page for all available tools
Bugs
Fixed: Could not CMD+N to create a new script if the Scripting View is empty

Fixed: Crashed on Shared State (Scripting) on prior macOS 10.15

Fixed: Potential crashes on HelperTool and HAR Export

Fixed: Crashes on Hex Viewer
Release date: 10 Sep 2020
Download
SHA: b30fabb1a51795b5837dc35edeb47bf968fe654a38fa00595ab4edb9b00f75b0
What's new:
Introduce Custom Root Certificate: You can locally generate and provide your own Root Certificate to Proxyman for SSL Proxying

Improve: Scripting persist state between onRequest and onResponse with sharedState

Improve: 1103 Error Resource exceeds maximum size error. It means make GET Request with body

Improve: Add rawBody to request and Response for Scripting Feature
Bugs
Fixed: Proxyman v2 couldn't open Proxyman Log v1

Fixed: Block List and Allow List does not work with WebSocket

Fixed: Should not reset app when resetting Proxyman Certificate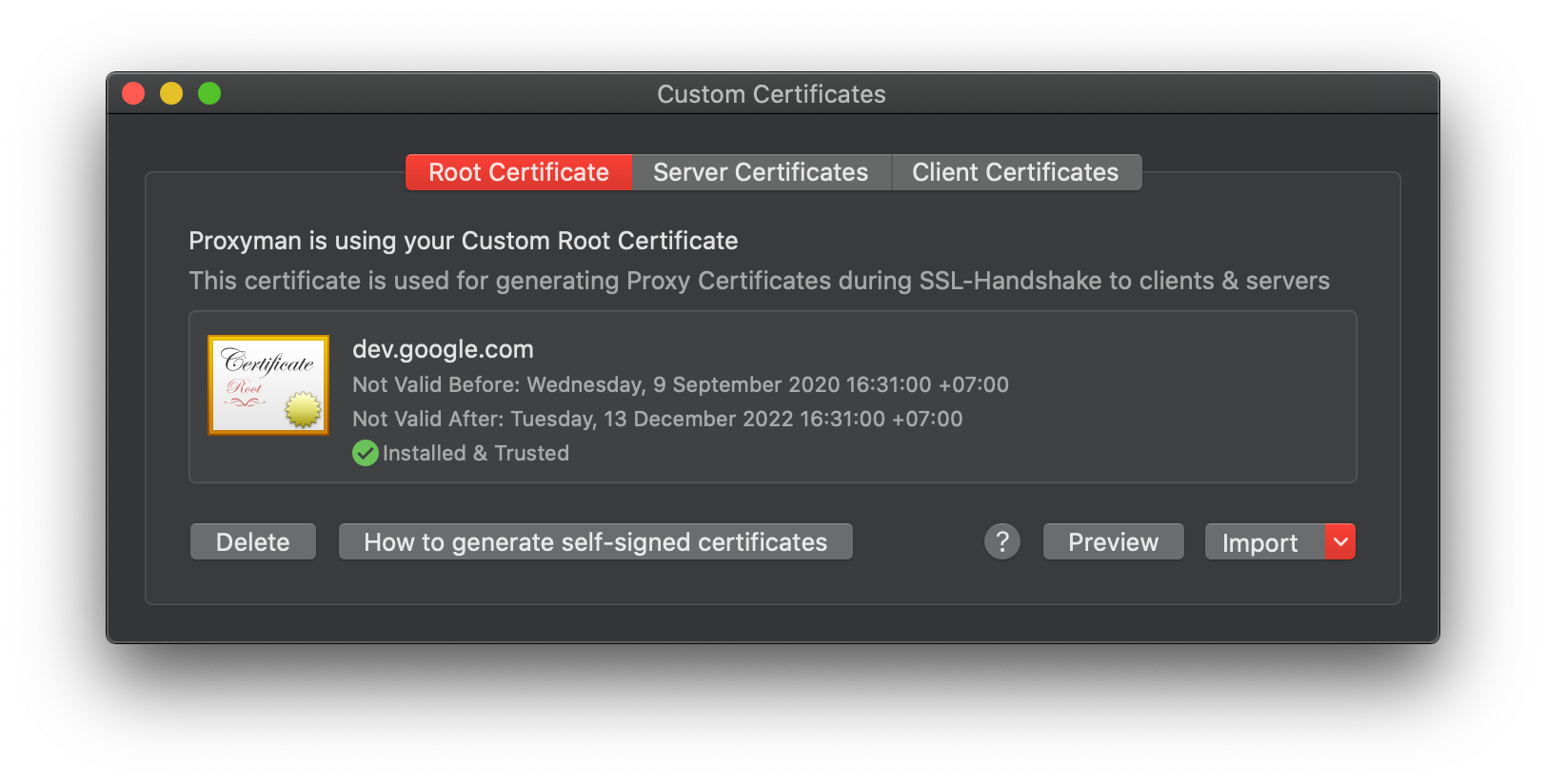 Release date: 31 Aug 2020
Download
SHA: dc63b08b46e8e410f7a246821d3754ad7a08f35488958dbc4796afcac3f75737
What's new:
Feature: Allow Map Local (File or Directory) with Scripting

Improve: Support Base64 Encoded String for the binary body in Scripting
Bugs
Fixed: Could not parse Binary Body in Scripting

Fixed: JWTDecode.js addons doesn't' work anymore

Fixed: Incorrect guessing the Content-Type of a local file (Map Local Directory)
Release date: 29 Aug 2020
Download
SHA: b88e590fa4318ea67cc14d3da5dda3793f9b1e762011e799f3b3cec8587c7b2c
Support gzip/ungzip and deflate/inflate compression addons from Pako.js

Support native atob and btoa base64 encoding/decoding

Remove default port 443 or 80 from matched requests from Scripting Tool

Add Hide Apple Traffic option in Preference -> Advanced Tab

Improve Scripting versioning: Replace each addons file for new version instead of replacing entire addon folder

Improve 10% Performance in Flow Table View due to alternative row color
Bugs
Fixed: The response doesn't end if the Script has errors on the onResponse function
Release date: 27 Aug 2020
Download
SHA: b95797154fdb661cd3d6a4cff21af2913416257ae058ed36f0e914319e7f818d
Improve: Auto enable SSL Proxying for Scripting
Release date: 27 Aug 2020
Download
SHA: 39f70ec4aa838430815d9285b1479f70f11240f96497304cba4893338a2c829e
Feature: Introduce Scripting Feature that allows you to write JS code to change the Request/Response Header, Query, Form, JSON Body, … in ease. Documentation at Scripting Doc​

Feature: Built-in Addons and Libraries: MD5, SHA1, UUID, Base64, Beautify, …

Feature: Ship with a collection of Snippet Code, includes: Update HTTP Header, Response, Query, Form, Host, Path, Port, …

Improve: Discard common Apple's Endpoints from iOS Simulators
Release date: 19 Aug 2020
Download
SHA: 66622dd736f035d2c39da1788644b6a552c3e34d3eacbcf86e5b0b6b108ffec6
Improved: Error Message when parsing the HTTP Message on Map Local if the Content-Length is incorrect

Improved: Wording for SSL Error
Bugs
Fixed: Map Local always scrolls to Top when opening the Windows

Fixed: Unnecessary Error flows (uncleanShutdown and read(descriptor:pointer:size:)) when the requests are stopped suddenly

Fixed: Often get 404 Response by Map Remote

Fixed: Typo in the error message

Fixed: Few crashes from HexFriend

Fixed: Renew day doesn't update after renewing the account

Fixed: Proxyman doesn't check update from the soft opening
Release date: 12 Aug 2020
Download
SHA: 4670509d1f6d607177f865a209cfa3f9af053981528068a8f2083dda152832d9
Bugs
Fixed: Map Remote to localhost often return 404

Fixed: Handle Invalid Regex or Wildcard scenario

Fixed: Crash when mapping with invalid Remote Endpoint

Fixed: Race-condition issue on Regex Matcher

Fixed: Blacklist doesn't block the website in certain scenarios

Fixed: Close All Alive Connection doesn't work in certain scenarios
Release date: 10 Aug 2020
Download
SHA: 2602bb934f2915bf371b04fe06f819867dc68d52ec2e49f71e7a3911c269b693
What's new
Feature: Install Proxyman CA Certificate on Java Virtual Machines

Improve: Proxyman Tools's UI

Improve: Add Save indicator to Map Local Editor

Improve: Remove Done buttons from all Tool Windows

Improve: Base64 Decoding with various String Encoding

Improve: Performance of the Flow List with a huge number of rows

Attempt to fix crashes on AppCenter due to invalid ByteBuffer usage and reduce the number of ChildGroup (Swift-NIO)
Bugs
Fixed: Broken layout for Map Editor on small screens

Fixed: Crash when reordering rules in Allow List

Fixed: App crash when parsing x509 Certificate from some special websites
Release date: 23 Jul 2020
Download
SHA: 08e3a96afa6ecc4cb4ee689b905ac6fbe574c0cedc57afd75bf1b0ba47028240
What's new
Feature: Support Regular Expression for all tools (Map Local, Map Remote, Breakpoint, Block & Allow List, …)

Feature: Refined Map Local UI

Feature: Support Map to Local Directory with specific paths and its subdirectories

Improve: Allow to repeat/edit the requests even though the Proxy is stopped

Improve: Update Nickname Device name on Client Column

Improve: Auto enable tools after adding a new rule
Bugs
Fixed: Custom Previewer Tab doesn't change the background when switching to Light Theme

Fixed: Map Remote to localhost often return 404

Fixed: Missing Server IP Address field from HAR file

Fixed: Server IP Column data is missing sometimes

Fixed: Crashes from AppCenter report
Release date: 14 Jul 2020
Download
SHA: 0f9039ad461d29ab10f989f67bcd685ba8f76ce22ca8be06aad21ba4e9432b12
What's new:
Feature: Custom Previewer Tabs: Easier to see the content in a certain format. Support Web View render and Beautify the minified files (HTML/CSS/JS)

Feature: Filter by Regular Expression

Improve: Add spinning cursor while loading large payloads

Improve: Handle HTTP Traffic from Connect request
Bugs:
Fixed: Status Badge button is too light on Light Theme

Fixed: Use with proxy chain not working

Fixed: Overscroll on all lists

Fixed: Custom Certificate badge doesn't show at launch time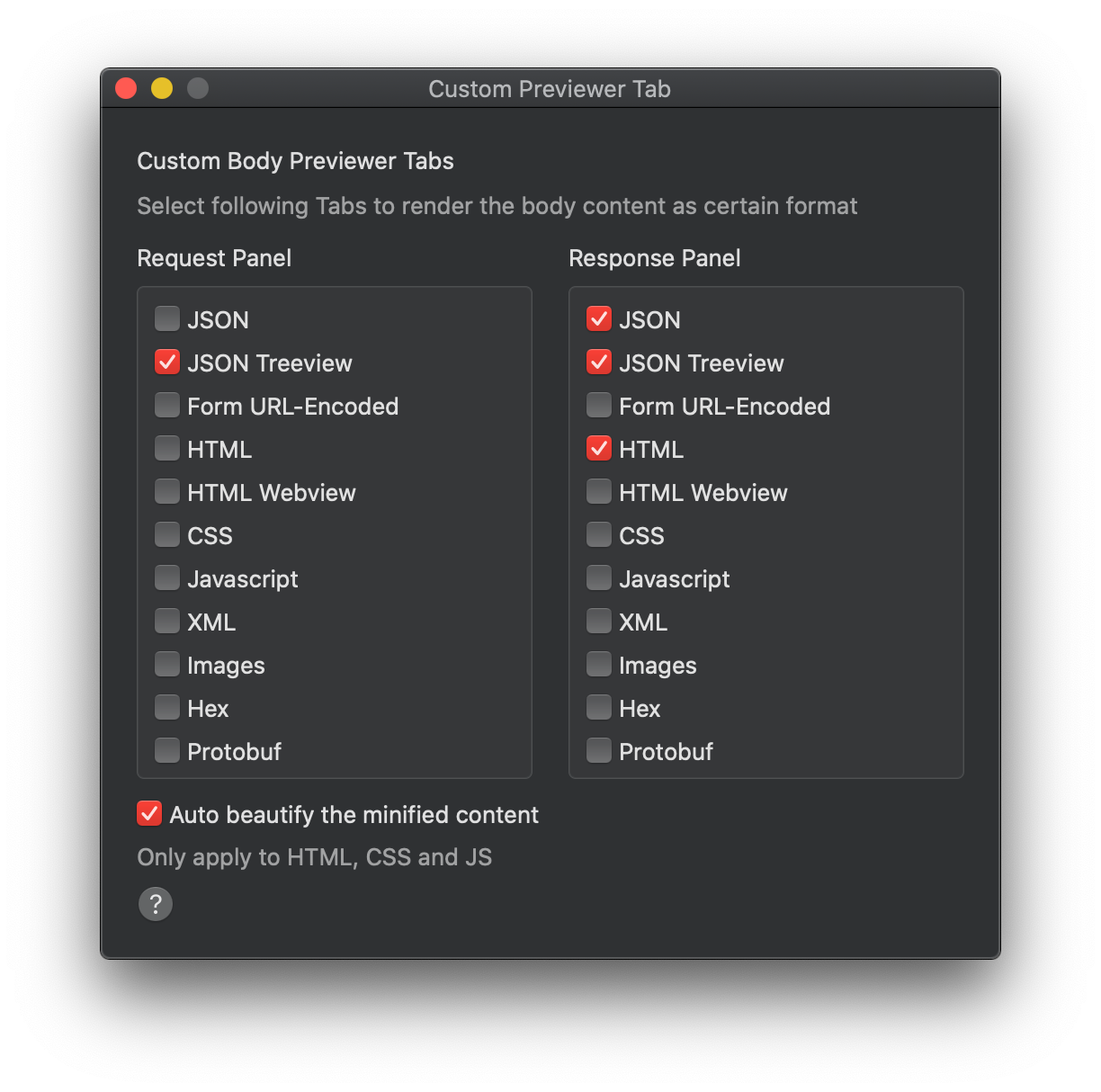 Release date: 03 Jul 2020
Download
SHA: 05b3164789875ba5d1a2edf816d8d22271fff377ba782bf5ed49b7a84c188fb4
What's new:
Feature: Bring Proxyman to Touch Bar (10.15+)

Feature: Enable Debug Mode in Help menu

Improve: how Proxyman fetches the remote certificates by using Swift-SSL

Improve: Remove all OpenSSL library

Bugs fix and improvements
Release date: 28 Jun 2020
Download
SHA: 8263d473da830b16222b34f8967e6d62113e1d2c6a4377e34cb2b54d28dbc0da
What's new:
Feature: Custom Server and Client Certificates for SSL-Pining and Mutal Authentication

Improve: Better UI for Big Sur (macOS 11)

Improve: Bring Clean Session button to the Main Tool Bar

Improve: Proxyman Windows always on Top Feature request

Improve: Export Private Proxyman CA Key

Improve: Separate Date and Time Columns Feature request

Improve: Update latest OpenSSL (1.1.1g)

Improve: Support Always on Top and 24-time format in Preference

Improve: Layout for Root Certificate

Improve: Performance when fetching the icon of the clients
Bugs:
Fix: IP v4 is not correct for Remote Device in some devices

Fix: Duplicate query keys are ignored when editing a request

Fix: Couldn't resolve IPv6 with gethostbyname

Fix: Couldn't find the source client, which causes Unknown Client

Fix: Crash when fetching the icon of the app

Fix: Race Condition on Flow Presenter

Fix: Crash when reading Proxyman CA from OpenSSL

Fix: Crash when fetching remote certificate from NIO-SSL

Fix: Incorrect Error layout for Firefox and Simulator
​
​
Release date: 17 Jun 2020
Download
SHA: 29e802f10b3ddbbfc9473087e97cd263151ef275c363fab400803c094a44fc6f
Bugs:
Fixed Install Certificate Manually doesn't work until we restart the app

Fixed Crash from OpenSSL on multiple-threads environment

Fixed Crash from race conditions when initializing the Proxyman Certs
Release date: 16 Jun 2020
Download
SHA: 222814e6b6d04741ba439dee27cf616b0d6a1c0bf5a83191b956757ea68b7561
What's new:
Introduce Proxyman v2, which is 100% written with Apple Swift-NIO for high-performance and reliable networking tools.

All tools are working well on v2, include Map Local, Map Remote, Breakpoint, Allow List, Block List, External Proxy, No Caching, and Charles Converter,…

Keep connection alive or close depending on the Request Header for reducing the time SSL handshake

Remove AsyncCocoaSocket and solve tons of random crashes

Improve how Proxyman dynamically generate the Remote Certificate by using BoringSSL programmatically

Repeated requests will be affected by Matched Tools as usual
Bugs:
Fixed Jump issue when pressing tab to move to the next cell in Compose View and Breakpoint

Fixed Allow list doesn't work in certain situations

Fixed Breakpoint Body is not loaded somehow

Fixed Repeated Request has a different order

Fixed WebSocket doesn't work with non-default port

Fixed Streaming Audio or Video doesn't work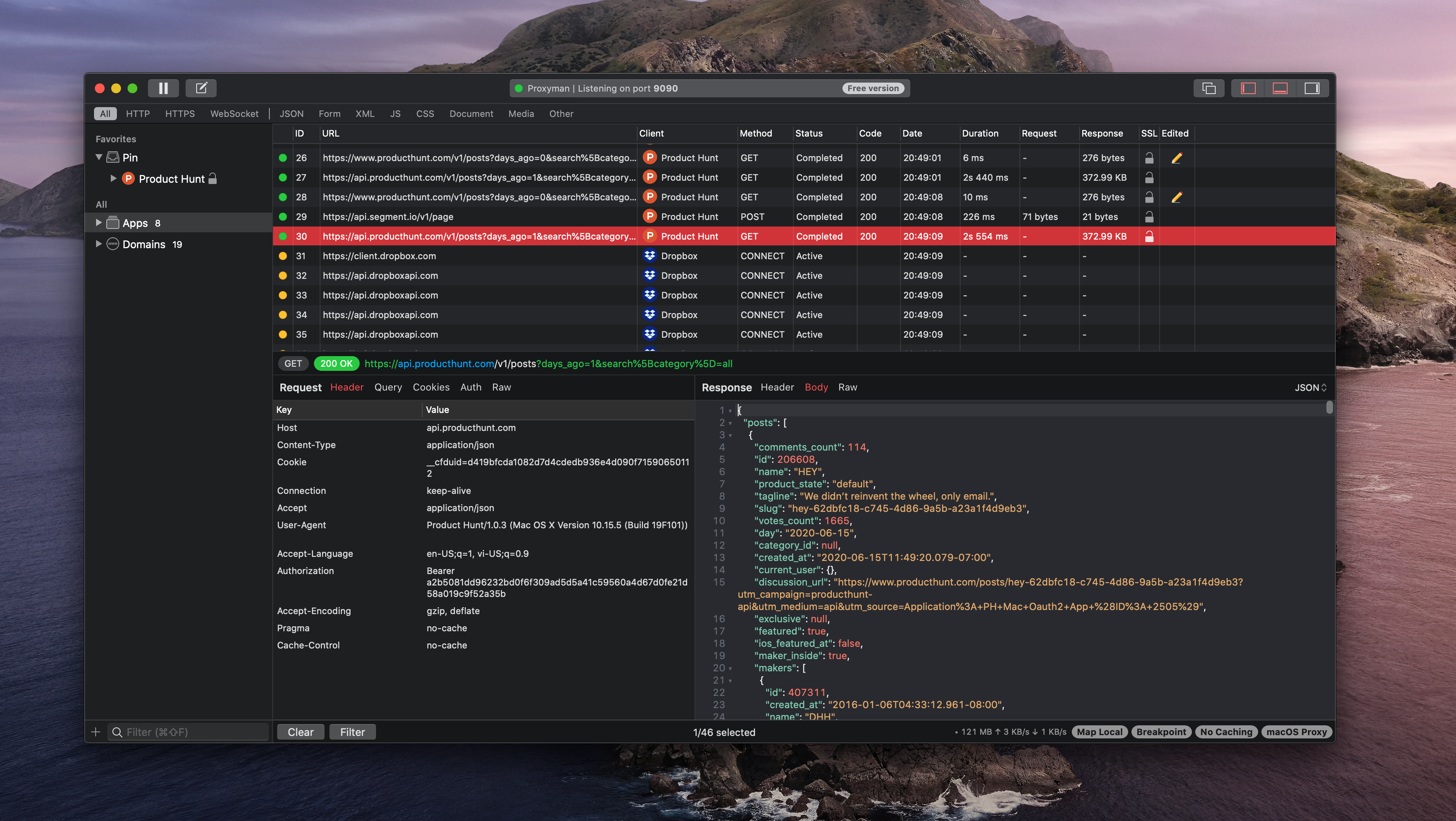 Release date: 31 May 2020
Download
SHA: 6bec745726c251996fca3080bae8072a9c9b0008c685d212b45ef3813b0b8102
What's new:
Introduce: Search and filter JSON response on the body content

Add: Monospace font options in Preference -> Theme
Bugs:
Fixed: Method Matching is wrong if enable Map Local on Connect requests

Fixed: Map local is accidentally replaced by placeholder content

Fixed: Deflate decoder doesn't work

Fixed: Whitelist feature is allowing other domains
Release date: 04 May 2020
Download
SHA: fdd7b3ed443baae38175b3bcea2ab65dddbe0c940d64e44a44d6bed92b5ae418
What's new
Whitelist Tool to specify which domains should appear on Proxyman. Reduce the enormous number of unnecessary noise

Able to open Charles Proxy Log (.chls)
Improve
Mock Data Testing for Map Remote and Map Local: You can map fake URL for testing easily

Add Method Matching to Black List

Upgrade the latest version of CodeMirror with modern WKWebView
Bugs
Fix: Query parameters are reordered on repeating a request

Fix: Failed/Hanging HEAD requests that work correctly with Charles Proxy

Fix: CodeMirror doesn't load in Android Certificate

Fix: Empty Content for Key-Value Encoding in View As menu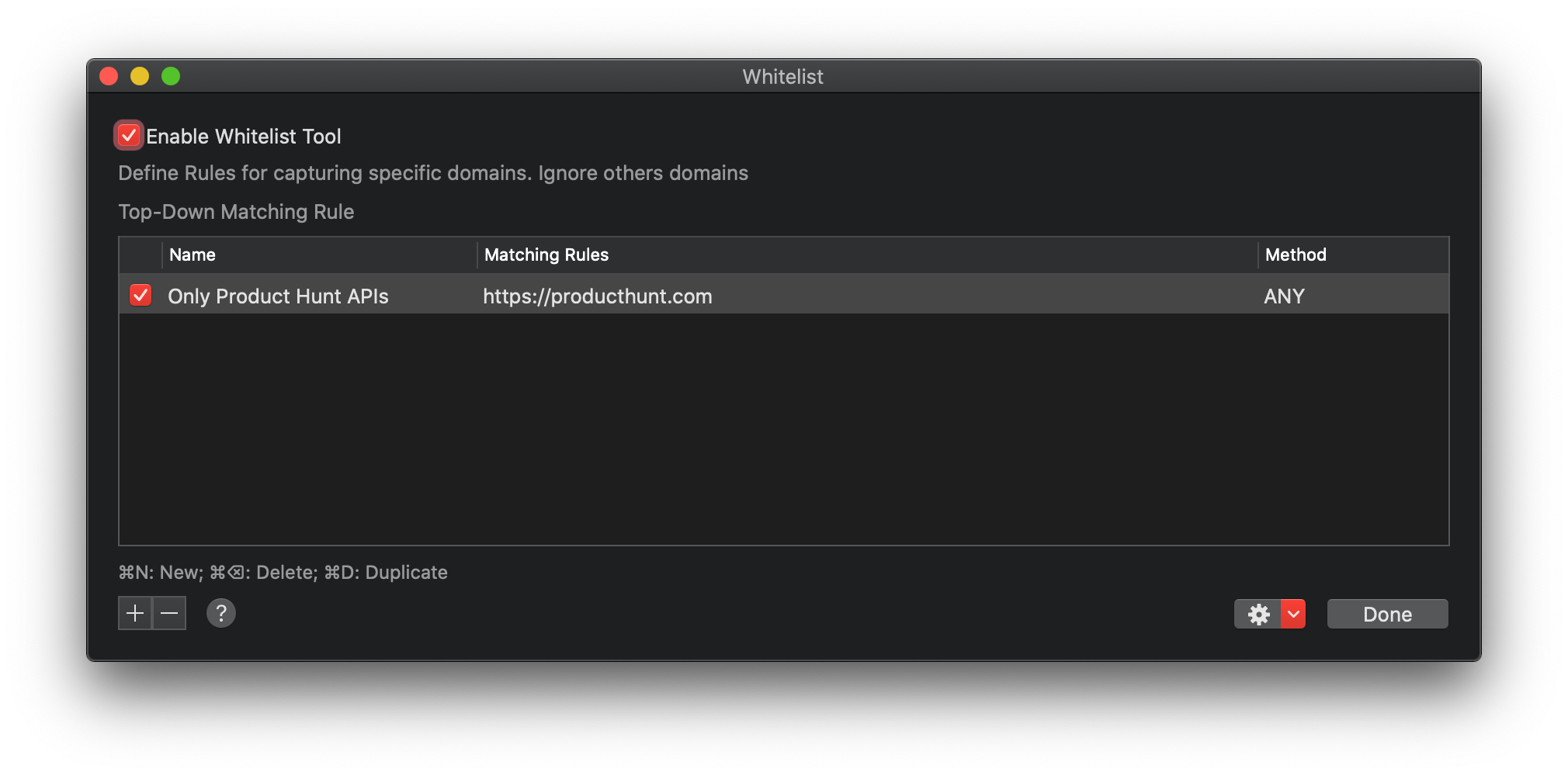 Release date: 27 Apr 2020
Download
SHA: 278234cb46418fa52e9a60369067884cc762e846ca8d69f02d96dbf409195f37
What's new
Introduce Protobuf Feature: Parse Protobuf to JSON in ease

Duplicate the local file for duplicated rules in Map Local

Add "Show in Finder" for apps in the Left Panel Feature request

Customize Font Size for all Request and Response Panels

Don't prompt Update Proxyman at launch
Bugs
Fixed Pressing Keyboard Shortcut for Filter makes the alert noise

Fixed Deactivate keyboard shortcut to remove a local map when updating its fields

Fixed PATCH spelled as PATH in breakpoint rules

Fixed Crash when repeating the flow if the Local Map is absent
Release date: 05 Apr 2020
Download
SHA: 3ea55bb49b017f622ade32a8f252d3af9dba93e0d8ca5589c63a9f85039984b2
What's new
Introduce Method Rule for Map Local, Map Remote and Breakpoint: You can define extract what the HTTP Method is

Filter setting is persisted from the last session

Support "Format as" menu to do JSON Prettier

Set Nickname for remote devices
Bugs
Fixed Requests are added into different Remote Device IP address

Fixed Couldn't generate Proxyman Certificate due to long name

Fixed Restore last window size and position

Fixed Map local is hang when selecting a big file

Fixed SSL 'Mac Setup Guide' displayed even when disabled in preferences

Fixed Pin menu is enabled even with pined items
Release date: 28 Mar 2020
Download
SHA: d50cf91c1d0bba1f3ae8039cb189dd4572a880579c15df3f15c935890f92342a
What's new
Introduce "Save as Session": You can export an entire session and load it for later use

Remove requirement for OS-level trust: You can intercept from Firefox, remote devices without trusting Proxyman Certificate

Re-design Mac Setup Guide and Proxyman Helper Tool Windows

Improve performance by moving all heavy process to the background and reduce the unnecessary call

Improve Body Previewer UI: System Font and elegant
Bugs
Fixed some websites do not show after enabling SSL-Proxying

Fixed No scrollbar in source list when the content exceeds the height of the window

Fixed networksetup CLI is failed if there is an invalid network service

Fixed Couldn't open Proxman Log from Remote Devices Folder

Fixed various Typo mistakes in Preferences
Release date: 16 Mar 2020
Download
SHA: 6eb042a1a05076bfc2f391aaa6984c15105893eed42e8b835901dc6cd2c5b4e2
What's new
Introduce Authentication Previewer: Easier to see the Basic, Bearer and Digest authentication headers

Introduce XML Pretty Print Previewer
Bugs
Fixed Broken URL Layout in Horizontal Mode

Fixed Map Remote/Local does not work if a request is Repeated or Compose
Release date: 09 Mar 2020
Download
SHA: cd79abc5e6dfd0c7bd00785ee7b1a02c1195b1c1733d443423b87339bdaa550b
Bugs
Fixed Missing Body in Remote Map Requests
Release date: 09 Mar 2020
Download
SHA: 6fc12f5a414880e698f5efaecfccd20d2e5f4e890e2f2a57773024335c10cfb8
What's new
✅ Introduce Map Remote Tool (⌥⌘R) Easily to test and debugging by remapping from Localhost to Production Endpoints and vice versa.

⚡️Introduce Helper Tool 1.2: Gratefully revert the HTTP Proxy Config if Proxyman is crashed

Improve Clear Session Tool (⌃⌥⌘⌫): Clear and release entire the session

Add "Not Contains" filter to easily filter out some annoying requests
Improvements
Improve UX when filtering flows with no result

Improve Add useful guideline to proxy.man/ssl if the user doesn't install Proxyman Certificate first

Improve Able to set a Default Location for Map Local in Preference

Improve Allow option to turn off word wrapping

Improve Monospace font for Network usage labels

Improve Allow version to be copiable

Improve Persist the previous Sorting state
Bugs
Fixed Crashes due to improper race-condition fix from the last build

Fixed Crashes when changing ports in Preference

Fixed Invalid Certificate due to non English character name

Fixed Trailing slashes are removed when sending modified URLs with trailing slashes

Fixed Change Proxy Port causes the app is hang bug

Fixed The current selection is reloaded after changing the sort
Release date: 25 Feb 2020
Download
SHA: 1de920ed598537bfa8e79c6a489a7c46e87a889987d71e7c3a20b383c21c4e8d
What's new
Fix some crashed due to invalid UInt64 from Memory & Network usage data
Release date: 25 Feb 2020
Download
SHA: 58654686e8299ea416a18f46a33ed1d5e765b8cb96e298414ce2422899fb2422
What's new
Introduce Memory and Network Usage in the Top Right Bottom Bar

Improve layout for White Theme
Performance
Diagnose and fix memory leaking in some internal components

Fixed Crash due to Race condition in Flow and TreeNode objects

Fixed AsyncCocoaSocket crashes on AppCenter
Bugs
Fixed Couldn't decode Deflate Compression from Response body

Fixed CMD+Number doesn't change the multiple-tab (Like Safari)

Fixed CMD+F for filtering specific requests do not work in some cases

Fixed Ctrl+Click is not recognized as a secondary click

Fixed could not decode non-UTF-8 Encoding body in some Japanese websites

Fixed Broken layout when the URL is very long

Fixed Reversed ID sort causes selected row to change when request comes in
Release date: 04 Feb 2020
Download
SHA: b669055e6359d665d1423e070a8c21c8dd4a35382892306070c51e1dcd7f7631
What's new
Introduce Map Local from Directory ✅ Proxyman accepts three types: 1. HTTP Message, 2. Only Body and 3. Local Directory

HTTP Message in Map Local is now properly formatted (prettier) to easy to change the body content.

Improve performance and reduce memory usages: From now, request and response content is parsing when it needs

Migrate to new Proxyman Certificate if the current certificate is out of date.

Add X-Proxyman-Map-Local Header Key for responses, which is mapped.
Bugs
Fixed Alphabet sort on JSON body

Fixed Content Panel doesn't restore to the last position

Fixed Incorrect file extension when exporting the Body
Release date: 27 Jan 2020
Download
SHA: e1f016e25d9b7dc90f60b49c231dce48dd40dedbb150744ee3bd8598a84e6975
What's new
Introduce a Better Map Local Tool (v2):

Map from a HTTP Message -> Capable of manipulating the HTTP Status, Headers and the Body.

Map from a Local File as a Body

Add the minimal Editor in Map Local => Able to edit the file directly in the app

Auto create a Local File from the Response of the selected request

Split View layout => Easily to manage the Local File Entry

Prefer using a JSON Previewer than Hex.

Add some well-known 3rd Text Editor app in Open With menu

Improve performance on the Main View with proper Throttle and Debounce when we have flood of in-coming requests
Bugs
Fixed Body Tab doesn't present in Breakpoint for a request/response with empty body contents

Fixed Don't automatically select the Remote Folder when it initially connects
Release date: 22 Jan 2020
Download
SHA: 0e0ac4c7db86213a584eedf9ad35cc8035109654eeada076f13bf9b6832e0306
What's new
Add "Reset Certificate" in Certificate menu

Clean all old Intermediate certificates when updating to new Proxyman build
Bugs
Fixed Missing HTTP Strict Transport Security in Proxyman Certificate for Firefox
Release date: 21 Jan 2020
Download
SHA: fd404bbf7110b4303fe35c431e1f4ffa7ce571800b0bd64b27012608e6bc3a4a
What's new
Introduce Hex View for the Binary body
Bugs
Fixed Repeat action doesn't preserve query items Resolved

Fixed URL parts are missing if the URL contains double slashes (//) after the host part

Fixed several crashes from AppCenter
Release date: 04 Jan 2020
Download
SHA: 5de73c13d45eb963beb5897a5296a3f3ffab231b3bba370a8a7568a00e09f445
Bugs
Fixed Missing some required Extensions (extendedKeyUsage=serverAuth) for self-signed certificate in Catalina

Fixed Couldn't make connection in some complex URLs.
Release date: 01 Jan 2020
Download
SHA: ab37031a18feaad39b2d6dcc221c63227ad406cccd3b08f8d0c31fda6cd8ede2
What's new
Detect Missing Proxyman Certificates in Firefox and guide the user to properly install it

✅ Reduce Memory Usage as Proxyman don't keep the decoded pretty body anymore. It would be generated on-the-fly in the background thread.
Bugs
Fixed Breakpoint Response doesn't present due previous connections weren't closed properly

Fixed Breakpoint Response doesn't update the body after intercepting.
Release date:30 Dec 2019
Download
SHA: b42ea59d5203a9b9a2269ee0dc706451a2ffb1f079ecb1bac4a5cfd88a443959
What's new
Security Vulnerability on Proxyman Helper Tool (CVE-2019-20057): Validate the authenticity of in-coming connections and prevent unauthorized apps try to change Proxy Setting without user notices.

Introduce Dock To Bottom layout mode for Request & Response Panel

Auto scroll the request list to bottom: Easier to keep track the newest requests.

Auto decode Precented-encoding in FormData
Bugs
Fixed Some URLs are not shown in Proxyman due to invalid chars

Fixed Boolean and Int (0, 1) in Tree View
Release date: 19 Dec 2019
Download
SHA: e4a5be394b3efed6ba5dbae1817ed263b54abc2d7c4faac257f1e0add56cb435
What's new
✅ Support multiple-line URLs: Easier to see full long and complex URLs in the Content Panel

Allow multiple headers in Request and Response by default. Such as Set-Cookie, www-authenticate, …
Bugs
Fixed Breakpoint panel is disappear after 2 seconds due to the server timeout

Fixed Crashed in AppCenter by improving many Safe containers in Flow models
Release date: 04 Dec 2019
Download
SHA: 7b31b1ee0998105aeb96dcbd3f696f04b60007948ad5adb78eb78dc40e74992f
What's new
✅ Base64 Decoder and Key&Value previewer are now eaiser for selected text: Right-click -> View As -> Base64 Decode

Add ServerIPAdress column in the flow list

Keep all percent-encoded in all URL
Bugs
Fixed: Set Breakpoint on a response would be unexpectedly closed during editing

Fixed: Invalid Percent-encoded in URL's path

Fixed: Incorrect cURL url in bash.

Fixed: Can't compose the URL with port number

Fixed: Mislabel on Blacklist and Breakpoint

Fixed: Table selection (Header, Query, Param, …)is clear when adding new flow

Fixed: Clear a flow doesn't close the connection

Fixed: Content Layout is not persisted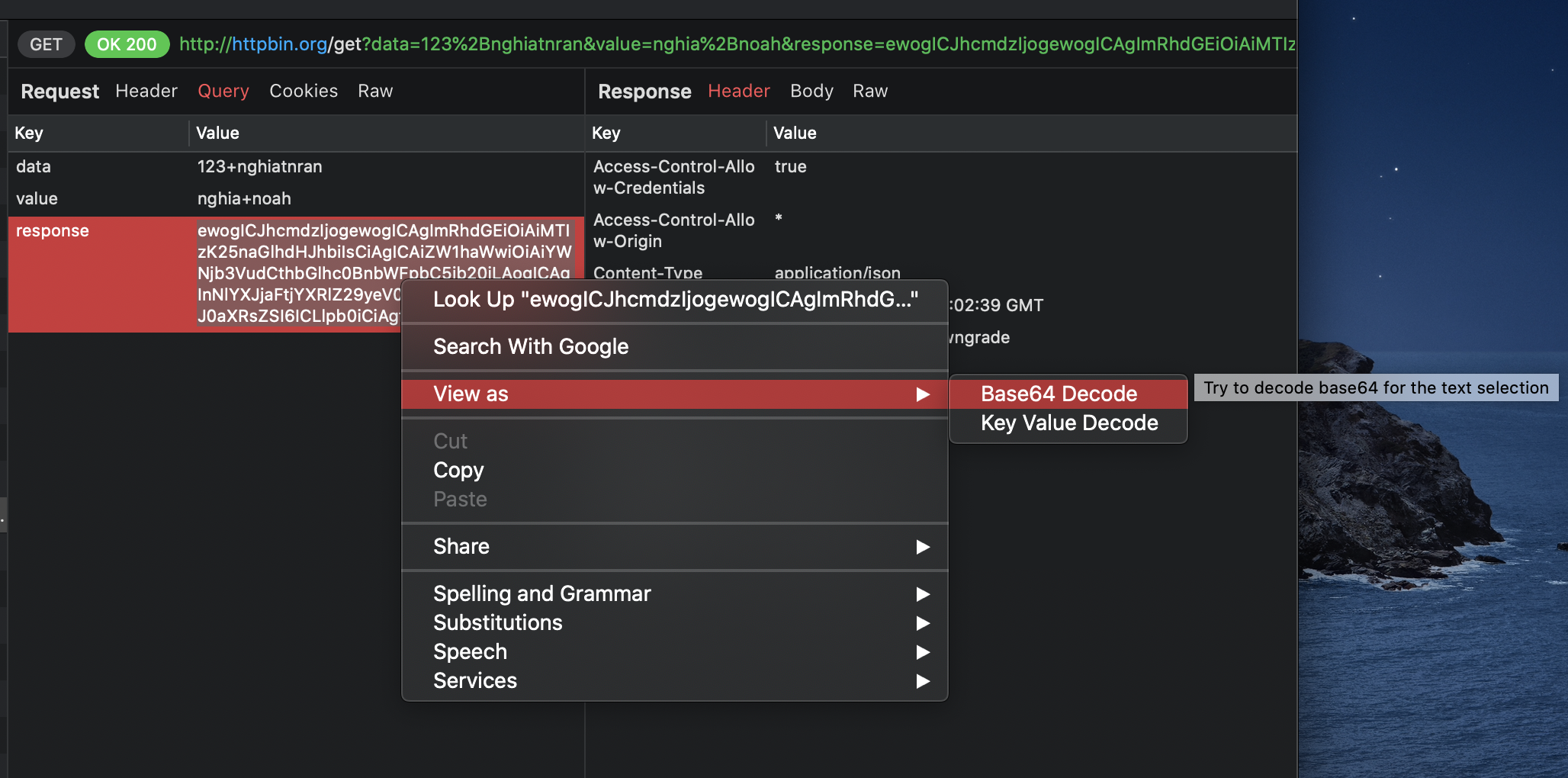 Release date: 19 Nov 2019
Download
SHA: bc535a5bb26e6c82f27f5a2a18e2ab2ab998a74da6366c4db21fc54857fab69d
What's new
✅ Map Local doesn't hit the destination server anymore and it always returns with status code 200.

✅ Repeat & Edit flows are now working regardless of the proxy setting => Able to repeat & edit when the HTTP System Proxy is off.

Improve the performance of Repeat & Edit flow

Force Percent-Encoding in the Compose URL
Bugs
Fixed: Execution request when using breakpoint always injects "?" to query param

Fixed: Changing port don't work

Fixed: Race condition crash on TreeNode and LookupMap and the FlowPresenter

Fixed: Crashed bugs from AppCenter

Fixed: Sometime the Compose screen still keeps the body from the previous flow.
Release date: 14 Nov 2019
Download
SHA: a7cf630b188e263ba4067f0522385a460ac38f6dad2ce2a307a6c984b5a2acac
Bugs
Fixed: 🔑 Proxyman Keychain is locked after a period of time.
Release date: 13 Nov 2019
Download
SHA: 7376e9ff691f87477e7f96f7433e4f25e813696fcdb38dd34b934429fe9d9147
Bugs
Fixed: After filtering the flow, the content layout (Right-panel) doesn't update the content.

Fixed: Improve the position of the right panel when launching.
Release date: 12 Nov 2019
Download
SHA: 369eb107d5e90b6b7351ff25dbbfef5540a9f3406b3487a90fa086f4459389b0
What's new
✅ Base64 Decode and KeyValue preview from the Body: Easier to decode the response body and catch the bug

🔑 Improve how Proxyman manages the Keychain: Proxyman won't modify the default Keychain when parsing P12 file. He will use his private keychain and manage appropriately.

🤖App Size 12Mb (dmg): Reduce significantly app size by getting rid of the fat binary library (ADVTrustStore) and implement the native code. ADVTrustStore is responsible for installing the Proxyman Certificates into all iOS Simulators.
Bugs
Fixed: Crash on macOS 10.13.6 when switching to Window Mode for the Request and Response panels

Fixed: Unable to drag to close the right panel

Fixed: Clear button on Bottom Bar and and Filter Search Text are off 1 pixel

Fixed: Right Panel doesn't remember the Close State

Fixed: Primary Filter bar is hidden when the app is in Full-Screen mode -> Hover the mouse will appear again

Fixed: Enable SSL sometime doesn't close the alive connection

Fixed: All Filter is invalid when choosing JSON

Fixed: Flow Selection is mess up when there is new flow

Fixed: Overlap layout in Request / Response Body tab
Release date: 04 Nov 2019
Download
SHA: 9afa63e0c70959b615575d65efb2c3c49743eac066390d41b1e1aca67ed2a92f
What's new
✅ Advanced filter: Easier to filter exactly the requests from HTTP, HTTPS, WebSocket, JSON, XML, HTML, CSS

⚡️ Improve text-based filter: URL, Headers, Query, Method, Status Code by contains, start with, end with, equal

💎 Revamp the UI: We bring the main filter to the Main ToolBar and make the bottom bar is larger.

Windows mode for the Request and Response Panel: Support full-screen and get more space in your external monitor.

macOS Catalina is officially supported.
Bugs
Fixed: Wrong color theme in Catalina

Fixed: Unable to filter on multiple-tabs

Fixed: Invalid percent-encoding in Compose screen
​Nghia Tran • June 9, 2019
All release history of Proxyman or Github Release​
Release date: 24 Oct 2019
Download
SHA: b7c815ccfd3b55af86a2af453fe15b2c7da80ddf6f203677ca763770adeb3944
Bugs
Fixed: Duplicated Header entry in Response from Local Map & Breakpoint
Release date: 20 Oct 2019
Download
SHA: ac35af253c880fea52d75b555b8e71f4dd674e037a6386fc6477a2a418e3be31
Bugs
Fixed: Invalid HTTPS Connection to HTTP Local server 💥
Release date: 18 Oct 2019
Download
SHA: 956942fe460231ad0aee59c61b0690cb41b4a0d9f3a411030544c1e94fd15534
What's news
✅ WebSocket Debugger: Easier to capture the WebSocket messages

⚡️ Support WebSocket and Socket.IO

JSON Previewer, JSON TreeView, and Filter for Sent / Receive / All types of WebSocket messages.

Improve Proxyman Certificate by supporting a new Security Extension

New Proxyman CA will include the current date and NetBIOS name: Easier to distinguish when you have many Certificates.

Automatically update to the latest Proxyman version
Bugs
Fixed: Invalid percent-encoding in URL TextField of Compose View

Fixed: Too many float digits in the Request and Response size

Fixed: HTTP header key is changed to Uppercase unexpectedly

Fixed: Couldn't set multiple headers (same key name) for Response in a Breakpoint mode

Fixed: Invalid cookie due to missing the space

Fixed: Incorrect serverIPAddress field in HAR file
Release date: 23 Sep 2019
Download
SHA: 28dc32000df92b3e3197819cd7bf5878bcc01486da399f1233162f2dc1a40b5c
What's news
Local map with $status_code: Easily change HTTP Response code from your color file with $status_code parameters 🤟
Bugs
Fixed: Proxyman doesn't expand Favorites Section when opening the file

Fixed: Crash when selecting the Group section

Fixed: Proxyman couldn't revert the Proxy when closing all tabs (not quit app)

Fixed: Broken layout in light theme

Fixed: Couples crashes on AppCenter
Release date: 15 Sep 2019
Download
SHA: 70eb7eecad0bbff22ae8dbe6b3b681c8dd7aee4c6287135b721170941b5ae872
What's news
Introduce Blacklist feature ⛑ (⌥⌘X): Easier to block the unnecessary requests and keep the workspace clean with no distraction (wildcard support).

Support wildcard on SSL Proxying list 👑

Support multiple-selection on Source View (Left panel)

Improve the Dashboard UI: Bigger Flow Content (right panel), smaller Source List, and Left-to-Right Content layout by default.

Easier to export Certificate (PEM file) from Preference or Certificate Menu

Helper Tool 1.0.3: Able to revert back to the original Proxy Setting.

macOS Proxy badge in bottom toolbar whenever the macOS Proxy is overridden
Bugs
Fixed the incorrect white background in Preview View

Fixed Proxyman doesn't revert to the original Proxy Setting

Fixed Proxyman doesn't revert Proxy when closing by CMD+W
Release date: 05 Sep 2019
Download
SHA: 59c40046e90670b0e5e918debf3333b9a80fdea04cbb539f4eb0a5badd4bc24a
What's news
Introduce Global Filter Content (⌘ + F): It's easier to filter exactly the HTTP Request you're looking for by URL or Content-Type like Google Chrome Tool does: All, JSON, XML, Documents, Image, ….

Start/Stop Proxyman doesn't affect Proxying on mobile devices anymore.

Override System Proxy on demand: You can turn ON/OFF the System Proxy by Tool -> Proxy Setting -> Proxy System. If you'd debug only on remote device, just turn it off => All macOS requests are ignore, but capture all from your iPhone.

Add –proxy flag when copying in cURL.
Bugs
Fixed: Incorrect url-encoded when proxying to the server

Fixed: SSL Wrong version when enabling SSL Proxying on HTTPS local server due to the absence of AltName in the Certificate.

Fixed: Invalid HTTPS package from Postman

Fixed: WS/WSS socket doesn't work in some cases.
Release date: 27 Aug 2019
Download
SHA: 5022f2f6c15e5c0b6868f8da8475ce790c33d85f53f4c822abf063e6b44c762d
What's news
Fixed: Some crashed bug due to missing the host when the first line of HTTP Request message doesn't match the format.
Release date: 25 Aug 2019
Download
SHA: a10daf893a3ef03fd853a72d88958b8f583d69fe823ac626ca9886e4de828da7
What's news
Introduce Breakpoint (⌥+⌘+B) feature, which enable us manipulate the HTTP Request / Response on the fly without any disruption 😍.

Breakpoint Rule: Easily define your rule (wildcard support) and set the breakpoint for Request or Response or both 🤟

Breakpoint View with built-in shortcut and menu context to easier cancel, abort or execute the breakpoint.

Support Export HAR file from a specific folder.

Adopt dark theme for all windows
Performance Tweak
If HTTP requests, which make from System Process (trustd, accountds) shouldn't store binary in request/response since it's waste

Add SkipBody in HTTPRequest/Response to determine if we need to keep the binary body

Improve "Clear all Cache" Tool -> Remove all flows in Flow Pool, Group, Folder and Node (recursively)
Squashed bugs
Fixed: WS / WSS socket couldn't connect properly

Fixed: The Flow status is incorrect when the peer socket is closed

Fixed: Open HAR or Proxyman Log file gets empty folder in some cases

Fixed: Couldn't present the Chinese characters #244

Fixed: TreeView issue when presenting multiline text

Fixed: App freezes when opening files when the number of Pin items exceeds the maximum

Fixed: 2 bugs on AppCenter
Release date: 03 Aug 2019 - Download​
SHA: 410a7e2f5f93e74961182fadaceb7409f3d40098d7f3fb57da976c3c5d468289
Introduce Map Local Tool: Capable of mapping the content of local files as a Response for matching Requests on-the-fly. Significantly boost your speed development ⚡️ Blog: https://proxyman.io/blog/2019/08/map-local-feature.html​

Wildcard support for Map Local Tool.

Introduce the Clear Cache Tool by closing all alive connections in order to reduce the usage memory.

Redesign the UI for SSL Proxying Window.

Fixed: Missing data from multi-part request.

Fixed: Couldn't verify the Certificate Trusted Status in macOS 10.12

Fixed: Crashed when accessing to the Flow Presenter's instance when assigning with new instance in background. It was a king bug 🐞, and it was completely squashed 💥
Release date: 21 Jul 2019 - Download​
SHA: 35d5e78709f22a3aae2188a26994898107f9e3c1bafb957ff2e1dcdd23f1229b
Introduce External Proxy for HTTP & HTTPS: It's suitable anyone has Proxy Servers in your Company. Just Tool -> Proxy Setting -> External Setting

Proxy Helper Tool v1.0.1 for the bug on VPN connections.

Support non-default HTTPS port: Ex: https://mywebsite.com:4000​

If you're debugging localhost: We suggest that providing Alias in /etc/hosts will resolve it. More detail​

Reduce the number of HTTPParser for a flow in ProxymanCore. Gain extra performance and reduce memory footprint 💯

Fixed: Couldn't revert the Proxy in VPN connection with new Helper Tool v1.0.1

Fixed: Couldn't connect to proxy.man/ssl server for some old devices

Fixed: Right-menu on Flow Columns is disable

Fixed: Clear flows that don't close alive connections.

Fixed: Couldn't clear flows when the table is sorting

Fixed: Crash when parsing nil flow in AppCenter
Release date: 15 Jul 2019 - Download​
SHA: 734c2e41ce885868a9695c434d8a9a6856a13d5ac5dfec83c0ceb94e910e4577
Improve performance when sorting Flow List

Fixed: crashed when the unowned self is deallocated. Happen when closing the app by pressing on the Red Circle 🔴

Fixed binary search crash and improve performance when adding new item when the Table is sorting
Release date: 14 Jul 2019
Download
SHA: 362261bdbc98d43f24feb194c3dcacac484fbce1f0c5d2e0375e66691d444d50
Introduce the "Tree view" 🌲: Quickly see all paths of domains/clients. Focus on particular paths or domains and reduce distractions.

Introduce the Form Editor in Compose view: Easier to compose the form content.

In this version, we dedicatedly delete all old legacy code for the Left-Panel and implement the Tree View from better solutions. It's essential for us to implement features in the future 🥰

Multiple selections on Flow List: Easily manipulate many flows at the same time

Hotkey for Delete and Delete All

Support Drag and Drop files (Proxyman Log or HAR file) from Desktop to Proxyman.

Automatically enable SSL Proxying when pining the item.

Adopt "Lookup-Map" for all items in Left Panel: Instantly navigate the on-going flow to properly folder, client, domain, nodes.

Debounce & Throttle for Source List and Flow List when the list is huge.

Render JSON Body and Raw view on demand: No more lag when opening big requests rapidly.

Fixed: Missing Set-Cookies in the header of request/response when it's duplicated

Fixed: By removing a bunch of middle classes from legacy code and adopt Tree View. Few bugs from AppCenter are squashed.
Release date: 02 Jul 2019
Download
SHA: 9b5b8df06e4ccebab703299e958706745969884f6f25ee975265cf5d5da1c45a
✅ Upgrade Proxyman Certificates to fulfill Apple's security requirements on macOS 10.15 and iOS 13. Other OSs works well as usual ⚡️ Ref: https://support.apple.com/en-us/HT210176
Release date: 02 Jul 2019
Download
SHA: 3ba909d30766c80b85e33005b31e1fa266996f815b742e1012f68ec44140eb38
Introduce "No-Caching" tool 💎: Proxyman always fetches new contents from your server. No more 304 Not Modified anymore.

Support HAR (HTTP Web Archive) ✅: Super convenience to reuse your works from Charles Proxy and Paw quickly. You can export at Right-click on Flows/domains/app -> Export -> as HAR file. Or import by opening HAR file with Proxyman.

Able to open HAR file with missing data from Paw, Google Chrome, Charles Proxy, …

Introduce HTTPS Response List: Easily manage your list of domains/clients, which enable SSL Proxying

Add Host and Path columns in Flow List: Enable/Disable by right-clicking on Column

Add the "Uninstall" button for Proxy Helper tool in the Advanced tab.

Improve Menu Bar: Consistent with the Context Menu.

Fixed: Form URL-encoded parser is wrong if the content has "&" characters

Fixed: Improper URL-encoding in URL columns.

Fixed: Typo in Network Proxy Setting windows

Fixed: AppCenter Analytics doesn't take effect immediately after enable/disable from Preference.
Release date: 24 Jun 2019
Download
SHA: 46d1d6af5c7a09a2e9abd561b603c022e33d842205d041ab7e78589a0c770ae2
We dedicatedly revamp how Proxyman overrides the Network Proxy Setting by leveraging the power of the Privileged Tool in macOS. The performance is far better than networksetup CLI we used ⚡️.

Proxyman is now working seamlessly in non-admin users.

macOS 10.11 is officially supported.

Introduce the Vertical Content layout for Request and Response panel. It's easier to debug with the huge body contents.

Android debugging is supported.

Fixed: Dark theme UI in Setapp Changelog windows

Fixed: Broken UI in macOS 10.11
Release date: 17 Jun 2019
Download
SHA: 9082544cb1694ecb250cf4bec7414d8364dc3ffca102b49477ee31eae46ef1b9
Introduce Form Previewer for form-urlencoded request/response.

Refactor the JSON Prettier, which is more reliable and high-performance from https://github.com/nlohmann/json​

Upgrade Swift CLI and Task Privileged for new macOS.

Value from Header, Cookies, Form, query after copying, now have different connection characters. Ex: Header is ":" (Content-Type: application/json). Form, Cookies, query is "=" (data=upgrade&tag=Proxyman)

Fixed: Missing request body in HTTP request

Fixed: Invalid Float number in JSON response

Fixed: Order of Header keys in request/response are inconsistent

Fixed: Broken dark-mode UI in macOS 10.13 if we enable "Use dark menu bar" in System Preference -> General

Fixed: Some repeated requests went to wrong folders
Release date: 09 Jun 2019
Download
SHA: 9989ec3c707fe6d94856b6a86a9c0e1293f91cabe3b9b77ab5f0835dbfc8ded6
Re-implement how to override the Proxy System on non-admin User and macOS 10.12

More bugs squashed on AppCenters. Thank Setapp's users for finding those bugs

Fixed: Crash on macOS 10.12 due to NSVisualEffectView doesn't work well when embedding into NSSplitView

Fixed: Disorder flows when sorting
Release date: 01 Jun 2019
Download
SHA: bac819a0a513518e724c6a721d91a874a777dd5411617a4c43be9a35bb5c71d0
Performance tweak when stopping the Proxyman Core and Revert the Wifi Proxy from System Reference

Monokai as a default theme

Fixed: Missing long query parameters in GET requests

Fixed: Wrong state of Body Option Button
Release date: 28 May 2019
Download
SHA: 7c0036591e4a6c7cb5b5a6f143adb4d24f18fe0f3ca2b8c748e63861b0bb93d1
Proxyman is more stable and reliable than ever with low-level HTTP-Parser library from NodeJS organization (https://github.com/nodejs/http-parser) => Lightweight and high performance than the original implementation

Theme is officially supported in OS 10.14. => Monokai is the first dark theme to help you concentrate your work efficiently. Check out the brand-new theme at Preference -> Themes

Export Body of Request/Response to file => You can export any data from your flows easily. Suitable for custom types, such as Thrift or Protobuf

Detect mime of raw body data and suggest next actions (Tree View, Previewer, GIF, Export, …)

Update "Install Certificate for iOS device Guideline" for iOS 12.2 https://support.apple.com/en-ca/HT209435

Fixed: Many crashes when manipulating items on Source List (Reported from AppCenter). Thank you guys for persistently testing Proxyman

Fixed: Order of flows in the Exported file is disorder

Fixed: Close all keep-alive connection when deleting or clearing flows

Fixed: Duplicated flows in the Exported file if it's from remote devices

Fixed: Potential crashes from force_cast in our codebases
Release date: 19 May 2019
Download
SHA: 5f006fa4f43e06e78436763f40c9d364e7638ef39c222ffbe5ec3d166dc2dc11
Fully support Content-Encoding (gzip, deflate, br, …) in requests/responses => Proxyman is now faster ⚡️ by reducing the time between Proxyman and the servers

Customizable Flow Columns (Right-click on columns)

Support new type cols: Compressed Request and Response

Easily preview your JSON request with JSON Tree View

Update http://proxy.man/ssl as a new SSL address for installing Proxyman CA into your iOS device

Bunch of UI improvements: Small text size, better color for dark/light theme, perfect padding,… Proxyman is perfect than ever

Able to delete Query/Header in Compose screen.

Improve hotkey in Repeat & Edit

Able to delete individual flow by hitting the Delete button

Fixed: Duplicated action when opening multiple tabs

Fixed: CodeMirror doesn't update the theme when OS's theme changes

Fixed: Unable to Open New Tab from items during searching
Release date: 11 May 2019
Download
SHA: 856a8f0a2ac48ee0bcb3eb46bd9ec646abebba3370b81a4adc6ee4f47b813db9
By taking advantage of the native SystemConfiguration framework, Proxyman is capable of overriding the Proxy of network devices faster 50% than before, which boost the launch time significantly

New layout for About and License screen for Free, Premium and Setapp version. We decided to drop all unnecessary alerts, make it cleaner and more natural.

Upgrade all domains to https://proxyman.io

Upgrade our codebase to Swift 5

Fix the bug from Compose Screen: the URL and Query table don't correspond correctly

Fix bug when Proxyman couldn't override the Proxy by Internet Sharing from iPhone/iPad

Fix the size of Enable SSL button in Right Panel

Fix Incorrect selection when opening in new Tab
Release date: 01 May 2019
Download
SHA: c2b158b2289e04a5df503981ad57a5fe7d8505884b1365471cc1c851502a3f36
Introduce the first stable Proxyman ever 🚀. We dedicatedly refactor some essential components and re-write how ProxymanCore intercept the HTTPS request

Improve logic to detect when the packets is ended for alive-connection.

Re-design the About screen

Introduce License management.
Release date: 21 Apr 2019
Download
SHA: 457d61c5c49dddb5106ab4729f5666841ffcda2b1a33cb7108c70f189dc9a391
We dedicatedly re-implement Proxyman by following the Apple Document-Based App. From now, you can boost your productivity by working on multi-tab. All actions have hot-key as well

Navigate tabs easily like what you did in Google Chrome and Safari. You can move forward/backward by Cmd+Shift+[or] or select particular tab by Cmd+number

Add "Open new tab" menu in Source List

Re-design the Proxyman icon

Support Open Recent in File Menu -> Open quickly your last log file

Add "Close after sending" in Compose menu

Fix open new tab with empty flow in previous version

Fix duplicated actions when opening multi-tab
Release date: 17 Apr 2019
Download
SHA: 8f79539b99839fe0a7533272ab673df3d91ca266f24ece6f213b0daeaa5e8631
Proxyman is now capable of exporting all flows from a particular app or domain. From now you can share your workflow to teammate easily

You can manipulate any JSON/HTML/JS… response directly from your favorited Editor, such as Sublime or Code. Feel like your home

Enhance the behavior of File Flow in Source List. Working on files are more reliable.

Basic improvement and fixed bugs
Release date: 12 Apr 2019
Download
SHA: 628dd94eff4521b180662bdb538a2fb2f6d44b633f5763840ae33670478c2345
Proxyman is now notarized appropriately from Apple Distribution Guideline.

Better color scheme for Raw Panel and JSON Response.

Support "Enable this domain" or "Enable all requests from this client" from Right Panel in order to enable SSL Proxying.

Support new SubMenu for "Copy As" when right-click on the request. From now, you can easily copy header, cookies, and body of request or response

Improve general layout and behavior for Source List and Flow Content.

Better UX for "Install CA for mac" -> If your certificate isn't trusted, there is a hint to show you what's next and how to fix it.

Fixed: Missing –cookie in cURL

Fixed: Sometime Proxyman doesn't override the Proxy from Network System properly

Fixed: Can't render JSON:API (application/vnd.api+json) response

Fixed: Can't focus on Search Bar (Cmd+Shift+F) on macOS 10.13

Fixed: Fix incorrect state of Workspace button
Release date: 8 Apr 2019
Download
SHA: 5f576d0bc762b2af2454098d3ffec740340fed7b1b6f179ad7957b23b3eefcc2
Fix the annoying bug when the scripts to override the Proxy doesn't work in some computers
Release date: 7 Apr 2019
Proxyman proudly introduces Request/Response-size columns in the flow list

Fix couple serious bug from AppCenter. Thank you guys for crashing the app. It's valuable hints for Proxyman to be mature

We refactor how Hotkey works by removing the Global hot key. From now, there is no more hotkey conflicts

iPhone Setup Guide window is now scrollable. It works well with small windows now

Fix Proxyman couldn't override the System Proxy if it's from Ethernet

Left and Right Panel is now fully flexible. You can resize it whatever you want.

Improve the logic of App Update. From now, you can get correctly update from the app without any distraction
Release date: 1 Apr 2019
Proxyman is now capable of debugging the requests, who come from iOS Simulator and iOS device. Both are essential tool to help you - iOS dev, mobile QA to catch a bug quickly.

We re-design the guideline for installing the Proxyman Certificate in macOS, iOS Simulator and iOS device => It's more intuitive and easier to setup for new guys.

Add Fun fact in Empty State view.

Add "Pin to favorites" menu context in Flow list.

Improve the logic for Repeated and Edit the remote flow.

[BUG] Can't delete Proxyman CA if it was installed manually.
Release date: 23 Mar 2019
Drag and Drop in Source List.

Bring Search Bar to Top of Source List.

Opt-in opt-out "Share anonymous analytics data" in Privacy Tab in Preference

Fixed: Keep the Collapse state of Source List after searching.

Fixed: Implement Logic for General and Privacy tab.

Fixed: Bring Search Bar to Top of Source List.

Fixed: Remove MixCatalog, which consist of ClientCatalog and FlowCatalog .

Fixed: Support Default Value for Codable protocol.

Fixed: Keep the format selected for the next URLs.

Fixed: Content Panel overlap information on Flow List.

Fixed: The Request/Response ToolBar doesn't change color after switching system theme.

Fixed: Pretty URL is reset the AttributedText during selecting.

Fixed: Do not see URLs after pinning a domain.

Fixed: Release date: 23 Mar 2019
Release date: Mar 13, 2019
Proxyman is more intuitive than ever. We dedicatedly re-think and re-design the Source List. From now, you can organize your workflow as you've done to Finder.

We eliminate all technical terms and carefully select meaningful words to help you catch up your daily work quickly.

New structure of Proxyman Source List

Redesign the layout of Source List

Improve the layout of Flow List

Move Add app button to Main App Bar

Unlock 🔓 / 🔒 icon for the clients/domains, which enable SSL

Redesign the Flow count badge

Resize the layout of SourceList, FlowList and FlowDetail

Implement new Menu Context for Source List feature

Re-design the State of Proxyman Core

Fixed: Clear all flow in Flow List

Fixed: Cmd + F is overridden in another app

Fixed: Double check the searching

Fixed: DomainClientSelection's layout is buggy

Fixed: The keep-alive CONNECT https request doesn't close when it's the complete

Fixed: All domains are not enabled SSL automatically if we enable for the entire client

Fixed: The Response Reviewer has jumped accidentally if the selected flow is reloading

Fixed: Unable to disable "HTTPS Response" in particular domain from Enable Client

Fixed: All domains are not enabled SSL automatically if we enable for entire client
Release date: 26 Feb 2019
It's the most productive working week ever

Safeguard for an invalid/deleted certificate => Enhance your experience on our app without any distractions.

Support reset all Certificate and data => In the emergency situation, you can reset all data by accessing to Debug -> Reset -> All Data & Certificate in the menu bar.

📦 It's also the most stable version 🚀. We dedicatedly fixed many following issues!

Fixed: Relayed flow doesn't appear into tracked client/domain.

Fixed: Proxyman can't detect curl client from a terminal.

Fixed: The order of Flows is incorrect.

Fixed: Proxyman doesn't select the first App/Domain for the first time.

Fixed: Proxyman doesn't enable SSL automatically after installing Root Certificate.

Fixed: Proxyman is unable to intercept HTTPS after re-installing new Proxyman Certificate.

Fixed: Can't detect code 999 (Invalid SSL).

Fixed: The ID Counter doesn't reset after opening different projects

Fixed: Broken Layout in Guideline for iPhone/Android/Simulator

Fixed: Remove unnecessary files after generating Root Certificate.
Release date: Feb 17, 2019
Proudly introduce the 📦 Workspace feature => Personalize your work seamlessly

Dashboard is now supported => Easier to categorize your project configurations

Start your work easily and quickly with Playground mode.

Fix bugs & General Improvements.
Release date: Nov 25, 2018
Revamp 💁‍♂️ entirely Proxyman's UI/UX.

Proxyman is now lean and intuitive UI.

Introduce Tracking List: we are able track specific apps or domains.

Two way to install Proxyman Certificate to Keychain: Automatic or Manual.

Install Proxyman Certificate when it needed.

Fix bugs & General Improvements.
Release date: Nov 10, 2018
Fixed: Can't copy Headers/Cookies on Request or Response in Flow Detail Panel
Release date: Nov 9, 2018
Able to enable/disable SSL Proxying on specific Domain or Client

Menu context on Source List
Release date: Nov 5, 2018
Switch port automatically if it's occupied

Support iOS Simulator catalog

Able to intercept request from iOS Simulator

Remote catalog for remote device

SSL Proxying for Remote Device (Android/iOS)
Release date: Oct 27, 2018
Introduce high performance ProxymanCore. Proxyman is now faster 100x than previous version.

Proxyman is capable of identifying the Client faster 35x

Enable SSL by demand for specific domain
Github Release